Dewesoft Supplied Measurement Equipment to Maribor University
03.07.2021
Dewesoft supplied the researchers at the Faculty of Mechanical Engineering of the University of Maribor (UM) with a unique integrated measuring system for stereo-optical fast digital recording of transients.
This is the first scientific research equipment supplied as part of the operation Upgrading National Research Infrastructures – with the Slovenian abbreviation RIUM. The operation was supported by the Ministry of Education, Science and Sport in the amount of 29 million euros. Deliveries of the remaining equipment will follow in the next two years.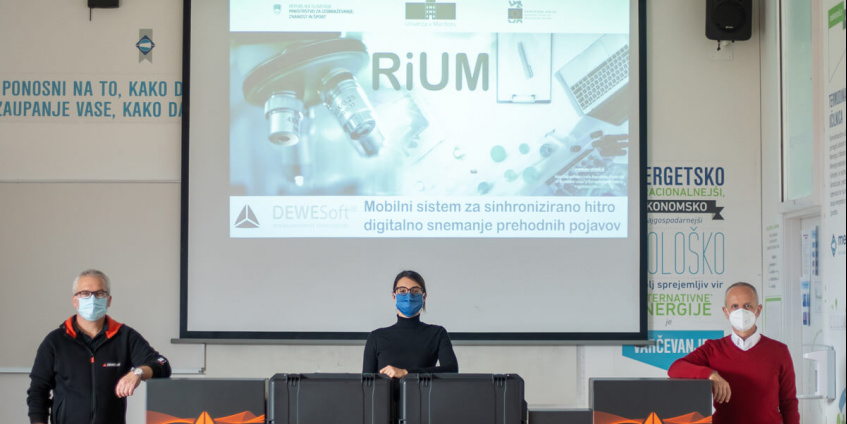 Research groups of the University of Maribor can thus acquire new state-of-the-art research equipment, which will enable them to carry out advanced research at an internationally comparable level.
Better composition of materials and constructions
The mobile synchronized fast digital transient recording system developed by Dewesoft is designed for advanced digital visualization of extremely fast transients such as impact deformation of materials, vortexing and cavitation, injection molding, brittle fractures, rapid crack growth, explosion effects or missiles, and the like.
The analysis of images made with ultra-fast speed cameras (2 million images per second) provides a better understanding of the basic physical laws of these phenomena and contributes to the improvement of the composition of materials, structures, or engineering processes and beyond, the University of Maribor explains.
The measuring system and its users
The mobile system is based on two high-speed Photron FASTCAM SA-Z high-speed cameras connected to the high-performance measuring system Dewesoft SIRIUSi HS 8x STG+ and supported by appropriate software for data capture and analysis, Photron FASTCAM VIEWER 4 (PFV4) and Dewesoft-X-PRO.
---

Back