Horizon Reverse Osmosis Water Treatment System
08.09.2022
Horizon Performance Technologies builds complete Reverse Osmosis systems to help cycle cleaner water through your industrial washer. The RO system is used to substantially reduce total dissolved solids to create pure, clean water. This process is used to optimize the surface preparation of parts being processed in your powder paint system. Typical RO systems are used to post-clean or polish water entering a powder-paint system. Horizon's RO systems are for initial fill and water make-up throughout the entire cleaning process. As parts transport through the washer, they are sprayed with RO water or a mix of RO water and chemicals, which results in the cleanest parts.
Horizon Complete Water Treatment Systems will include:
Carbon filter, with FRP tank and brass control valve for chlorine removal from city water supply.
Duplex water softener, with FRP tanks, water meter, and salt tank to reduce mineral hardness of the water supply.
Reverse Osmosis filtration system to further reduce the incoming water total dissolved solids by 97-98%.
Poly RO water storage tank with pump, shutoff float, and internal piping to continuously circulate and mix the RO water.
Conductivity sensor meter to monitor the quality of the stored water.
UV light filter to control bacteria growth.
Optional powder-coated skid base allowing for easy transportation and set up.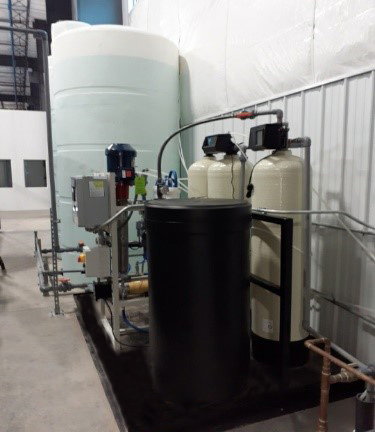 Clean water is the key to surface preparation. Contact us today to get your best powder-paint results!
---

Back